- -
0 comments
One of the most awaited UAAP event (aside from the Ateneo-La Salle Basketball) is the

UAAP Cheerdance Competition (CDC)

. Samsung is still the sponsor for this year and now this is the first time it is held in SM MOA Arena. It's also the first time for Jessie Mendiola to co-host this event wtih Boom. The judges for this year are Jana Eftimu, Julien Leblond, Huang Yu Chun, Manuel Malonzo and Joe Jackson.
The event started with the court side reporters encouraging their respective school supporters to cheer. UE court side reporter mistakenly mentioned University of the Philippines instead of University of the East. I personally think it is not really needed and quite a failure since not all the crowd are game. :)
First to perform was the

Adamson Pep Squad

. They have great routine with no major flaws with their routine. Although not perfectly clean since some members are hitting each other. As I expected they used Psy's Oppa Gangnam Style on their routine since their theme is K-Pop. Over-all good performance from Adamson University but worries that its not that memorable to make it on top.
Here's the video of their performance courtesy of ABS-CBN news:
Next up is last year's 1st runner up is

DLSU Animo Squad

! First off that I noticed is that they have nice costumes this year and its consistent with their boxing theme. I liked how they creatively used boxing gloves as their "pompoms". Clean execution and nice formation and the music is very well chosen all connected with their them on boxing. I super liked their routine where the cheer dancer was thrown and immediately stand up on a pyramid. I think DLSU Animo Squad will have a fighting chance this year. I personally think it is even better than last year. Good job DLSU Animo Squad!
Here's the video of their performance courtesy of ABS-CBN news:
Third to perform is the host school,

NU Pep Squad

. The theme of bulldogs this year is ballerina - fairy tale if I were not mistaken (confirmed that their theme is Disney Classics). Like the costume and also the level of difficulty of their routines. Although, there are some mistakes on the earlier part that is so obvious that might be an issue with their performance. I also do not get their last formation and hope it could be better with one that could have lasting impression with the judges.
Here's the video of their performance courtesy of ABS-CBN news:
4th to cheer is the

FEU Cheering Squad

! Wow! That's my expression upon seeing their complete performance. Their theme is tribal/jungle and they were able to keep consistent with it. Their costume was impressive and with all the surprise change costume at the middle was really great. I also like their very clean formation plus the attitude was in there. Their stunts was also remarkable with all its difficulty and great execution. I'm now reserving FEU on my top spot with the 4 performers. Kudos to FEU Cheering Squad!
Here's the video of their performance courtesy of ABS-CBN news:
Next is

UE Pep Squad

! Their theme this year is warriors (or immortal gods to be specific) with their costume like old age warriors with all the cape. As my friend said, their "look" is similar with UP before with the blond hair and big logo on their costume, which might be the reason the court side reporter got confused. Their performance is ok with all the stunts but I'm missing something with them. I think with all the theme and music seems to not jive that well. But the cheer dancers are good with almost clean performance since there are minor mistakes seen. I think their performance might me that enough or quite just a big feat to follow FEU's performance.
Here's the video of their performance courtesy of ABS-CBN news:
Next is previous champion the

UST Salinggawi Dance Troupe

! I'm actually wondering what will be their performance this year given they are also known to be champions on this competition. Their theme is floral with their costume and music (actually it is Brazilian inspired). As expected they are the team with the great height with their throws and execution. Their first routine almost had difficulty with the person on top almost failing to keep hold of the cheer dancer. Great execution from Salinggawi Dance Troupe but personally I'm quite expecting more from their performance. I'm not sure if it's just me but seems not enough for place. Well that's my opinion.
Here's the video of their performance courtesy of ABS-CBN news: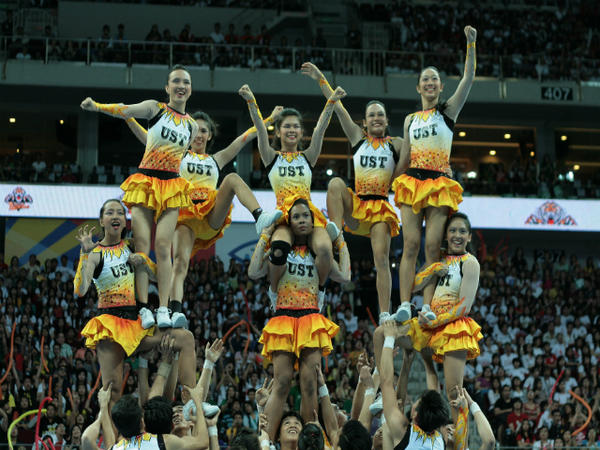 Image courtesy of GMA News
The 7th team to perform is the

Ateneo Blue Babble Batallion

! I believe their theme is anime/Japanese superheroes (e.g. Maskman, etc.). I actually also liked their performance its clean and nice with their costume. I don't see much misses although their stunt or pyramids are quite slow as compared to earlier school. I just think the last routine of Voltes V seems to be not that executed well. I think its so "pilit" just to emphasize their Japanese anime/superhero concept. It's just my opinion but still good job Ateneo Blue Babble Batallion!
Here's the video of their performance courtesy of ABS-CBN news:
Last to perform is the 2-time and defending champion

UP Pep Squad

. I'm quite waiting for what will be their surprise this year. Seems unclear for me on their over-all theme but great performance from them. I really liked their formation and their pyramids and all. The level of difficulty could not be denied to be really high plus the strong support of all UP supporters. They are at the last end of their routine/final pose but unfortunately there's a very big mistake and a cheer dancer fell which is very noticeable. It's almost perfect but that for sure will hit them big time. I just got the information that their girls shaved their hair so they can donate it to create wigs for cancer patients. Here's the video of their performance courtesy of ABS-CBN news:
For me, my personal top 3 are FEU, UP, DLSU. I like FEU for their perfect routine, consistency in theme, high level of difficulty and great performance. UP is my second place for their outstanding performance and they could have a great chance to win again but the mistake at the end will definitely be a hit on them. My 3rd place (without bias) is DLSU because I like their creativity (gloves) and their consistency of the theme. They might not have that difficult stunt but their performance was awesome still. How about you who are your top picks?
The official winners though are: 2nd Runner-Up goes to

National University Pep Squad

, 1st Runner-Up awarded to

FEU Cheering Squad

, and the Champion is no other than

UP Pep Squad

. The 4th to 8th placers are UST, DLSU, ADMU, ADU and UE respectively.
Aside from the winners above, other people awarded are UP Pep Squads

Erica Ambulo

as Samsung Stunner,

NU Pep Squad - 2nd Runner-Up Samsung Stunt Competition, FEU Cheering Squad - 1st Runner Up Samsung Stunt Competition and UP Pep Squad - Champion Samsung Stunt Competition.
Like this post? Then don't forget to follow this blog or like
KAHITANOITO
Facebook fan page/
KAHITANOITO
Twitter account to get the latest blog posts and updates. :)
[ Read More ]